Linden NJ Shoplifting Charges
October 9, 2014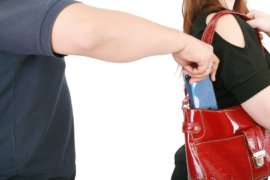 Linden is a major city with many depot stores including Walmart, Home Depot, Target, and ShopRite.  These stores employ full time security guards called loss prevention officers to catch and prevent potential shoplifting, which can cost these stores millions in losses each year. These department stores contribute to a high number of arrests for shoplifting in Linden each year.
Police recently charged two men with shoplifting from Home Deport after the two allegedly took the fan out of its box and filled it with various tools, valued at over $1,000. They then allegedly took the box through the checkout, paying only the $46.97 that the fan cost. However, loss prevention officers were secretly watching and notified Linden police who arrested the two men before they could leave. One was stopped in the store and the other man found sitting in his car in the parking lot. A search of the car revealed more merchandise that was suspected stolen. According to reports both men were charged with third-degree shoplifting and are being held on $12,500 bail.
Facts like this always make me cringe as a criminal defense attorney, because these circumstances will often lead to the police seizing the car and the County Prosecutor's Office filing a forfeiture motion since the vehicle was being used in furtherance of criminal activity. Moreover, all third degree indictable crimes are handled at the Union County Superior Court in Elizabeth and are punishable by 3 – 5 years in state prison.
In a completely separate incident, another man was arrested at Home Depot after trying to allegedly shoplift a $57 circuit breaker, which would typically be a disorderly persons offense shoplifting because the merchandise was valued at less than $200. However, things quickly escalated when a loss prevention officer confronted the man and a struggle ensued where the security guard was injured. Unfortunately for the defendant,  the relatively minor shoplifting charge was automatically upgraded to a second-degree robbery charge after after his struggle with the loss-prevention officer. He is being held on $75,000 bail. If convicted, the second degree robbery charge carries 5 – 10 years in state prison with a presumption of incarceration. It may seem extreme but under New Jersey's law, "theft + force = robbery". An experienced criminal attorney may be able to work with the prosecutor's office to downgrade and or remand the charge to avoid incarceration or even a conviction depending on the circumstances.