Police Officer Arrested for DWI in Linden NJ
December 22, 2013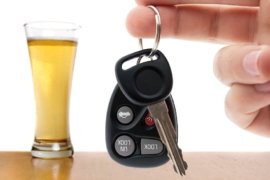 In the early hours of Thursday morning around 2 a.m. a man was arrested for suspicion of being intoxicated after he struck a 20-year-old pedestrian with his vehicle. Linden Police quickly responded to the scene to investigate what had happened. Now it turns out that the man arrested for DWI was a police officer himself, from Alpine Police Department. The defendant was off-duty at the time of the accident.
The defendant was charged with DWI following an investigation and testing by Linden Police. The accident took place at the intersection of North Stiles and Blancke streets. The victim was raced to University Hospital in Newark following the strike, and still remains in serious condition.
Linden police say the incident is still under investigation and further charges may be filed. Simpson was released on his own recognizance following the accident, according to The Star-Ledger.
The defendant will most likely be charged with Assault by Auto, a third degree indictable crime since he was alleged to be intoxicated at the time and the victim suffered serious bodily injury. A third degree indictable crime is punishable by 3 – 5 years in state prison. Moreover, the County Prosecutor's Office is reluctant to offer first offenders admission into the Pre-Trial Intervention program because of the nature of the crime. This means that it would result in a permanent "felony" conviction. An indictable offense is a serious charge and can affect anyone's life drastically. However, for police and other public servants such as firefighters, a conviction for an indictable crime is automatic bar for employment. If